Shoppe of Treasures from Today and Yesteryear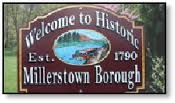 A new destination for those who enjoy finding treasures from today and yesteryear in Central Pa. Woreks Wares is located on the square in historic Millerstown Pa. We are located at 5 North Market Street Millerstown PA 17062. You can find directions to us by clicking here


How do we describe Worek's Wares in one word? I think that word would be "Thriftique" You always will find an eclectic mix of treasures. Ladies fashion and accessories, we have you covered. We even have a men's department with clothing, and mens accessories. Shoppers will also find vintage costume jewelry, collectibles from the 40's to today. Our selection is constantly changing so you will want to make Woreks Wares a frequent destination.

However, clothing, jewelry, and collectibles are not all you will find here at Woreks Wares. We carry furniture at economical prices, a vast selection of vintage records, cds, books, and much much more. As you will see on our inventory page these items are available now.

We strive to bring you quality items at prices that wont ruin your budget. There is always something new at Woreks Wares, be it new items or a fabulous sale.


We just added fine quality cigars to our list of incredible merchandise. Over the summer months we plan on offer outdoor seating for those who like to partake of a cigar. And cigar events through out.

Our OFFICIAL grand opening will be announced here and on Facebook. Click the Facebook banner below to like us and be the first to learn of all the great specials and events we will be hosting here at Woreks Wares.


We are open every Wednesday, Thursday, and Saturday from 10 am to 5pm and Friday from 10 am to 7 pm. We are closed on Sunday, Monday, and Tuesday. Drop us an email to be placed on our mailing list and be the first to get the scoop on all the sales before the general public.

So feel free to contact us here at Woreks Wares by calling (717) 589-3555 or click here to drop us an email. Be sure to like on Facebook as well, just click on the facebook logo.